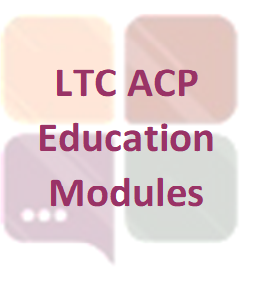 LTC ACP Education Modules
The Long Term Care (LTC) Advance Care Planning (ACP) Education Modules are designed to offer facilitators a means to provide foundational knowledge about ACP and the role of the Substitute Decision Maker (SDM) in Ontario for healthcare providers.
Note to Facilitators
Click the ACP Education Checklist to view all available facilitation resources, some of which are only available by facilitator request.
Each module is designed around a specific theme and includes interactive opportunities to build skill and enhance the capacity of all providers in supporting residents and families.  Parts of each Module can be viewed below.
For more information, please contact: hpcinfo@hospicewaterloo.ca
Module 1:
What is ACP?
Module 2:
Who is the SDM
Module 3:
Role & Responsibilities
of the SDM